The Scrub-A-DONE!
If you are looking to download and print a pdf copy of this pattern, please visit our YarnWars Group, click on the "Files" tab just below the timeline photo, and you will find the file within.
Supplies:
G-hook – (For even more scrub power, try an F-hook!)
Cotton Yarn
Blunt needle
Scissors
Techniques Used:
Seamless Foundation- (Video)
Fphdc- Front post half double crochet
Hdc- Half double crochet
Pattern:
Begin by chaining 31
Sc in 2nd ch from hook and each stitch after- you can work the (Seamless Foundation) instead if you like which makes for a much nicer finish!
(For tip on crocheting a more seamless project, beginning from the back spine of your chain rather than the right side, see video: https://youtu.be/7RPeZyY4maI)
Ch 2, turn
Hdc in 1st st ch 1, skip next st, *hdc in next, ch 1, skip next st* repeat ** until you have only 2 stitches left to work after your last ch 1. Hdc in last 2 stitches.
Ch 2, turn
Fphdc in nxt hdc from prev row *hdc in nxt chain 1 space, fphdc in nxt hdc from prev row*, Repeat **, hdc in top of ch 2 at end of the row. (The last 2 stitches in this row should be a fphdc then a hdc into the chain)
REPEAT ROWS 2 & 3 – Grow to desired height.
IMPORTANT– You should have 30 stitches at the end of each row of the regular size and 20 stitches at the end of each row of the sponge- make sure that you count your ch 1 in row 2 as a stitch =)
ALSO: Your Fphdc's should be lining up!
If you would like to create a border as seen in the multi-color picture above, after creating the final row, ch 2, work another hdc in that same corner, work 1 hdc into ea st around entire project working 2 hdc in ea corner. Join to top of ch 2 at end.
---
Sponge size Pattern:
Approx 5″ wide
Work same pattern above, beginning with 21 chains instead of 31.
Finish off.
________________
For a slightly different twist to this project, try the following:
After working 2 rounds of rows 2 & 3, ch 1 and sc in ea stitch across. When you reach the end & work your last sc in the row, ch 1, work another row of sc's across to end to put you back to the right point to start back with your next 2 sets of 2 & 3.
This alternative will put 2 rows of sc in between every 2 sets of rows 2 & 3 as seen in the picture just below!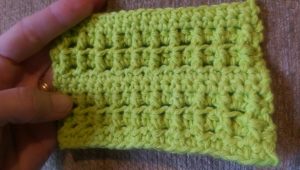 (Sc or slip stitch 2 together for ULTRA scrubbing sponge action as pictured below!)
---
This pattern is being offered free to the public for creation purposes.
Selling this pattern is strictly prohibited, altering or modifying this pattern for distribution purposes is strictly prohibited, this does not mean you cannot change the pattern for your own personal use! You may not change the pattern to distribute or share it as your own in your community or any other venue. Whatever you choose to do with your end product is your choice, gift, sell or otherwise. There was a lot of time and effort that went into creating this pattern to make available free to the public. If you plan on sharing this pattern with your group, members or friends please refer to the link to YarnWars.com with the following: http://www.yarnwars.com, Colleen Hays, as the pattern designer.
Any questions or problems encountered with this or other patterns by Colleen Hays with YarnWars.com, please feel free to join in at our YarnWars Group on Facebook where you will can be a part of an amazing group of talented people from around the world, share the fun things you are working on, make new friends and pick up a free pattern, or 2 or 3 or more & get support.. QUICK!!
Subscribe to our YouTube Channel at Chaysie Crochet for great free pattern walk throughs, helpful crochet tips & Power Hour projects that you can work up in under an hour!
Thank you for much for your interest in my dish and pot scrubber pattern!
I hope you enjoyed working it =) Please feel free to comment below on how this worked for you!